Mechanical Services
Schaeffler Mechanical Services (previously Bearing Engineering Services "BES") is a wholly owned division of Schaeffler Australia with advanced bearing reconditioning and service facilities located in Auburn, Sydney. For over 25 years, Mechanical Services proud record of achievement has placed it at the forefront of the Australian rail and industrial bearing service industry.
Industrial Bearing Reconditioning
Mechanical Services offers local assessment and repairs of large rolling bearings used in industrial applications. Whether it's open pit mining, excavators, crushing machines, rolling mills, paper machines, energy or other industrial applications, Mechanical Services can offer significant reductions in maintenance costs.
Our Long term Packaging solutions provide piece of mind for "critical bearing spares", with the knowledge that the bearing investment in storage is in the right condition and ready for use when needed most.
Railway Bearings Reconditioning
Continued research and process innovation, plus a commitment to meeting the most demanding customer requirements have made Mechanical Services a highly respected name in the rail industry for technical excellence, reliability, safety and efficiency.
Mechanical Services local innovations include a sophisticated automated bearing polisher, a the first of its kind in Australia, providing greater accuracy and consistency of raceway finish for extended journal bearing service life and reduced life cycle costs.
As an OEM-authorised repairer, Mechanical Services only use OEM-approved components in the railway reconditioning process. Our railway reconditioning portfolio includes all metric and inch TAROL sizes from Class C to GG locomotive specials.
The Mechanical Services Jupiter inspection and data Management system is our proprietary software which offers complete transparency and traceability of bearing inspection history in our database with a high level of detail. This is one of the most important tools in helping our clients get the most out of their investment. Bearing trending data can assist our clients with optimising maintenance intervals, identifying in-service issues, and to optimising wayside detection systems.
Mechanical Services enjoys close technical support from the leading bearing manufacturers.
Mechanical Services is the only authorised reconditioner of Brenco bearings in Australia and New Zealand.
Mechanical Services is ISO 9001 certified.
Mechanical Services is a division of Schaeffler Australia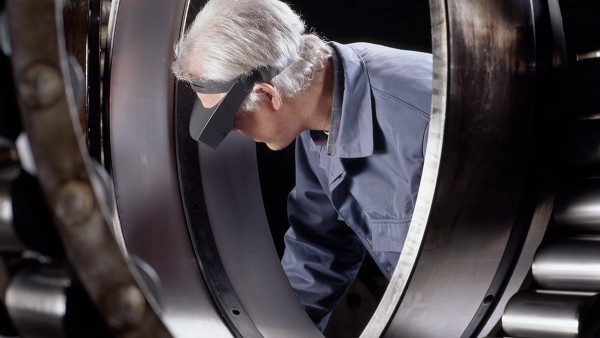 Automated Bearing Polisher
An automated journal bearing polishing machine that delivers superior raceway finishes and extended service life in railway journal bearings produced using innovative new processes has been introduced by Bearing Engineering Services (Mechanical Services, a division of Schaeffler Australia).
In a first for the Australian bearing reconditioning industry, Mechanical Services recently finalised commissioning of its Automated Journal Bearing Polishing Machine, capable of handling all metric and AAR sizes, says Mechanical Services Railway and Reconditioning Manager, Mr Enzo Cavalli.
The new machine, designed in-house and built by local contractors, enables Mechanical Services to deliver bearing raceway quality levels closer to that of new, increasing whole-of-lifespan efficiencies for Mechanical Services clients including those in light and heavy passenger rail, as well as freight and heavy haul operations throughout Australia, New Zealand and the Asia-Pacific. Mechanical Services customers also extensively cover heavy haulage rail including iron ore, coal and other mining industries, bulk handling, sugar, transport terminal and port loading infrastructure users of railway equipment.
Benefits of the new automated machinery include:
Superior raceway finish as compared to traditional manual polishing methods.
Improved quality control through greater accuracy and consistency.
Improved service life, reducing bearing life cycle costs.
Improved WHS+E outcomes to staff, with reduced manual handling and reduced intensive repetitive manual operations.
Better environmental outcomes, with improved dust and contamination controls and collection.
"By introducing this equipment into our system, it allows our highly trained and skilled staff to spend more time focused on the critical areas of the reconditioning process that deliver higher value and returns to our clients," says Mr Cavalli.
"Maximising our time where it is needed most, not only further refines and improves our ability to make decisions of benefit to clients, but give our staff a greater sense of focus and purpose. Our inspectors can utilise their skills and experience in a far more proactive manner as compared to the manually intensive methodologies of the past."
Share Page