Schaeffler awarded for its innovative maintenance solutions for KCGM and Pilbara Iron
Highly commended at the Bulk Handling Awards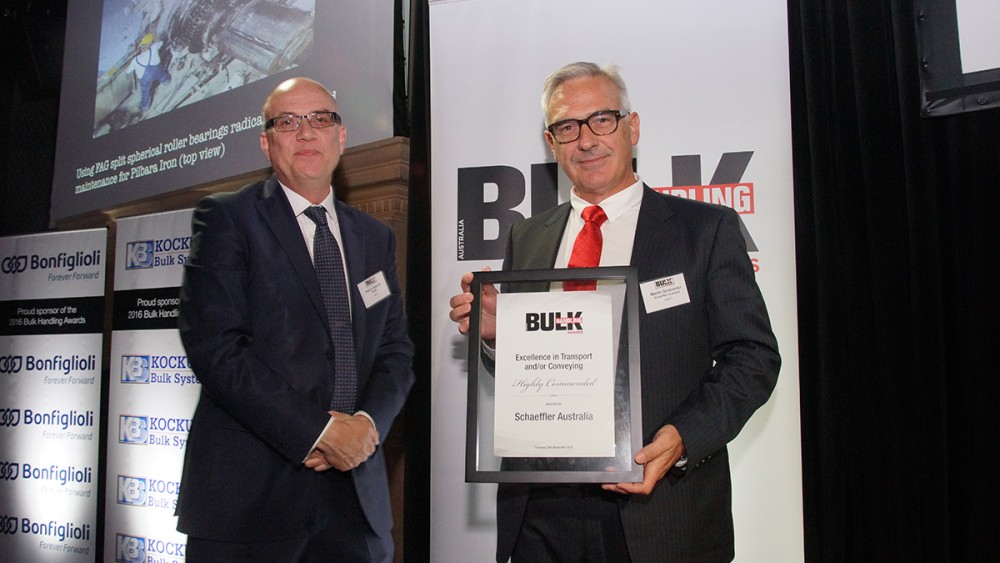 2017-02-22 | Frenchs Forest
One of the first and most pleasant tasks of the new Managing Director of Schaeffler Australia, Mr Andre Kluge, was to accept a highly commended award at the 2016 Bulk Handling Awards. Schaeffler received the accolade in the Excellence in Transport and/or Conveying category for its innovative maintenance solutions for KCGM and Pilbara Iron.
The awards were held at Doltone House in Sydney on November 24th, and recognised the most innovative, efficient and safe technologies in the bulk handling industry.
"I've been here less than a month, and already I'm seeing signs that impress me. To have two of our major maintenance projects receive the honour of highly commended is a great achievement and a testament to the hard work put in by the whole Schaeffler team here in Australia," said Mr Andre Kluge, Managing Director, Schaeffler Australia.
"Bulk Handling is a sector where you just can't afford downtime, so Schaeffler strives to provide technologies that assist in making maintenance tasks more efficient and less costly," he said.
Schaeffler's highly commended status was split between two different maintenance solutions – one for KCGM and one for Pilbara Iron – both of which saved the customer significant costs and downtime.
Maintenance Solution for KCGM
One of Australia's longest-lived gold mining operations is among KCGM operations reaping the benefits of a technology transplant from bearing specialist Schaeffler Australia that has cut tube mill maintenance and costly breakdowns.
In an operation that eliminates downtime costing more than $A45,000 an hour (30,000 euros, more than $US33,000), Schaeffler Australia supplied KCGM Pty Ltd with a complete package consisting of custom-fabricated sliding sleeve housings and FAG spherical roller bearings for tube mill processing of output from KCGM's Kalgoorlie gold mines including the Fimiston Open Pit (Super Pit) mine and the Mt Charlotte underground mine.
Schaeffler's package of sliding sleeve housings and spherical roller bearings means floating bearing displacement no longer takes place between housing and sliding plate but between sliding sleeve and housing bore. Lubricant is constantly fed between sliding sleeve and housing bore, ensuring a low coefficient of friction when thermal expansions take place inside the 7000mm long, 3000 kW tube mill with a speed of 14 U/min (with load acting on locating bearing: 1 600 kN and load acting on floating bearing: 1 800 kN.
Maintenance Solution for Pilbara iron
Pilbara Iron, a member of the Rio Tinto Group and a world-class asset manager, has showed how innovative technology can be deployed to radically reduce the downtime and cost of replacing the bearings on a bucket wheel excavator drive at its Dampier Port Operations.
Replacing the standard bearings on a bucket wheel drive requiring maintenance was a nightmare.
The standard unsplit FAG SGC Pillow Block housing on the grease-lubricated drive shaft of the machine was difficult to access. Normally it would have taken 72 hours to replace the spherical roller bearings. This would have meant costs of idleness of $A2,000 an hour.
Schaeffler recommended changing the conventional FAG spherical roller bearings to FAG split spherical roller bearings, which are engineered to radically simplify maintenance, cutting downtime by 50 per cent or more while reducing costs by eliminating complicated bearing replacement procedures in machinery and plant.
The split bearings were fitted into the existing housing without modification or the need to remove the drive shaft. This decreased the installation time by 50 percent and thus resulted in a major reduction in downtime and overall cost.
By removing many of the steps and complications involved with solid bearing replacement, FAG's easily installed split roller bearings increase uptime and profitability for a wide variety of machinery and plant used by industries such as mining and bulk materials handling.
Publisher: Schaeffler Australia Pty Ltd
Country: Australia
Share Page